Vintage Moose Cufflinks. Wildlife Cufflinks.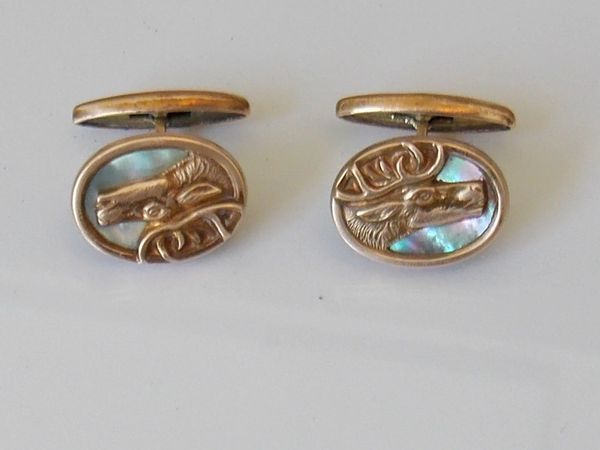 Vintage Moose Cufflinks. Wildlife Cufflinks.
A very unique set of vintage Moose cufflinks, though not without a couple of problems. These Moose cufflinks are oval gold tone and feature the head of a Moose on an Abalone shell background. These were probably not easy to make and to include an ocean shell with a Moose probably wasn't their best thinking day but, it works perfectly together. I can't imagine how hard it would be to find a comparable set of Moose cufflinks from this era. Now for the problems which, aren't really detrimental to wear and, are just cosmetic. There is a small dent (see last photo) on the cufflink closure. Not uncommon for this period of cufflink but, I wanted to mention it for the new owner. Second is that one cufflink was made upside down as seen in first photo. This may have been to denote the left and right cufflink or, just an oversight. These are a unique set of cufflinks that look wonderful during wear (tried them to be sure they were working). Aside from the dent and one being upside down, these are a nice set that are sure to get noticed. Tops measure 3/4 inch x 1/2 inch.