Russian Blue Enamel Vintage Cufflinks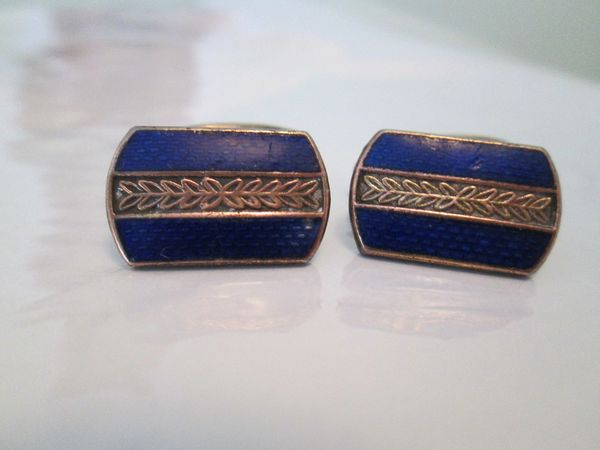 Russian Blue Enamel Vintage Cufflinks
Russian blue enamel vintage cufflinks. Great set of Dark blue cuff links with a distinctive front copper colored leaf strip that runs the length of the cuff link. Nice attractive set. Stamped with what appears to be the letter C.
Era:

Art Deco

Size:

Tops are 3/4 inch x just under 1/2 inch across.
Color:
Blue
Material:

Metal. Enamel.

Connection:

Swivel

Issues:
Swivel backs are very loose. Will not affect wear. Most of the silver tone has worn off back swivels (see photos). Typical age discoloration to back of heads and parts of stem. Some wear to enamel. Just typical vintage wear. These cuff links are quite serviceable.
ORIGIN: Old USSR-Latvia import

Share this item with a friend. Use the social and pin buttons under every product. E-mail a link to this listing to a friend, with your message, by pressing on the envelope symbol.