Trademark Clip Moon Star Antique Victorian Cufflinks.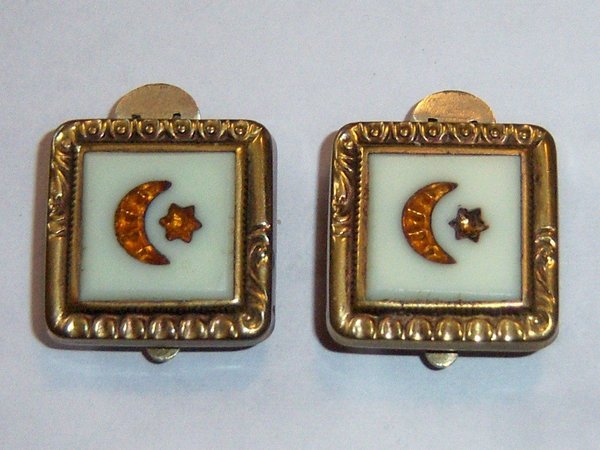 Trademark Clip Moon Star Antique Victorian Cufflinks.
Looking for antique Victorian cuff links with style? Check out these Victorian era brass picture framed moon and star cufflinks. Feature a gold enameled moon and star on a white background and signed Trademark. These square Trademark clip back moon star antique Victorian cufflinks are classics. They incorporate more design than most. Increasingly rare and hard to find "clip back" cuff links from the late 1800's period are one of my favorites. The picture frame look, the closure, the great designs, it all adds up to a wonderful collectors dream. If I were going to collect only one style of cuff link, these would be the ones. Clips are a little tight. One star didn't quite get enough enamel. All in all though, these are an amazing set that have weathered the century very well. Tops measure 3/4 inch.
Share this item, and our shop, with a friend. Use social buttons under product. E-mail the listing to them by clicking the envelope symbol. We do not collect, share, or use any E-mails when using this method.