SOLD: Vintage Accordion Cufflinks. Squeezebox Cufflinks. Folk Cufflinks : SOLD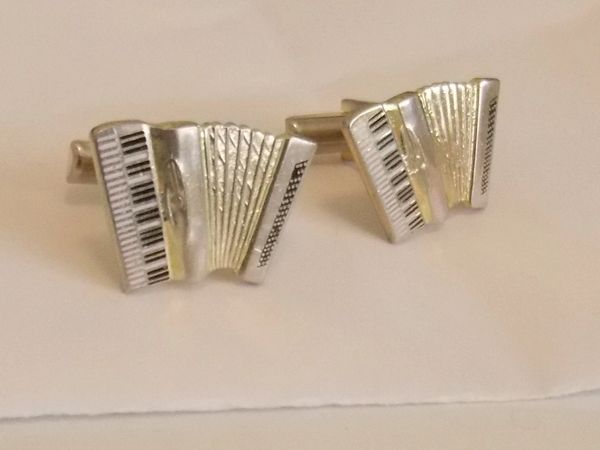 SOLD: Vintage Accordion Cufflinks. Squeezebox Cufflinks. Folk Cufflinks : SOLD
Vintage accordion cufflinks circa 1950's-60's. These "squeezebox cufflinks" look just like an accordion on the tops, including the keys done in enamel paint. Backs read PAT PEND which is common to 1950's cufflinks prior to being patented. One cufflink does have some dark areas around where the shaft was attached but this can be common when they are heated and put on. The high temperature will occasionally "blacken" the metal. This will not affect wear. The whale toggles work very well. 
Era:

           
 Vintage
Size:

              3/4
 inch long x just over 1/2 inch 
Color:

         

   Gold Tone

 
Material:

      
Gold tone metal, white & black enamel 
Back:
Whale tail toggle
Issues: 

       
    Minor
 wear
Share us with the social buttons under every product. Press on the envelope icon to send an E-mail link to this product with a message from you. We do not save, share, or monitor these E-mails. Press on plus sign for more share options.