Vintage Collar Buttons. Faux MOP On Chain.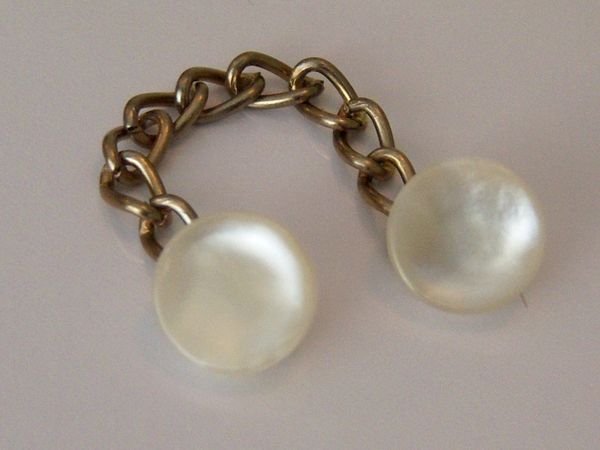 Vintage Collar Buttons. Faux MOP On Chain.
A great item look to complete your vintage look. These faux MOP on chain collar buttons look wonderful on any shirt with two collar button holes. They are a little tight going through but, once in, give you a clean finished look. These vintage collar buttons bring the shirt in at the neck without having to button your top button hole, thus giving you a bit of breathing room. These are pictured on a button down shirt. They are actually meant for shirts that were not button down yet had collar holes. As you can see in the photos, they look good even on a button down shirt. TIP: No holes in your collars? A local tailor or seamstress should be able to add them at a very small cost. This is definitely a look you should consider. The age of these are unknown but are probably circa 1960's. Buttons will be a bit tight fitting through today's narrow collar holes but, once in, are quite striking. Measurement of chin is approximately 2 inches.
Share us with the pin and social buttons under every product. Use the envelope icon to send a link with a message from you to a friend or colleague. We do not collect, monitor, or share these E-mails.