Vintage Russian Cufflinks. Blue/Green Cabochon.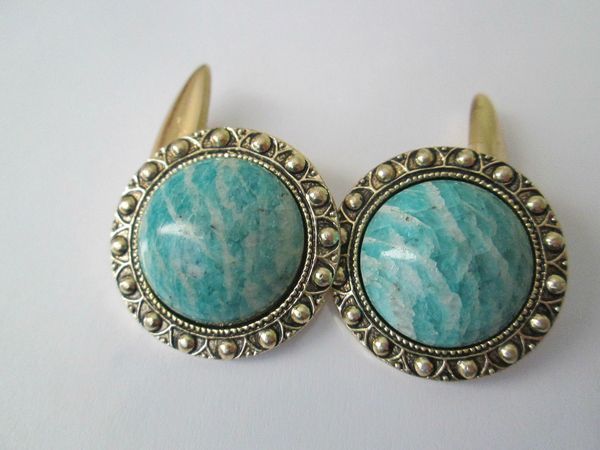 Vintage Russian Cufflinks. Blue/Green Cabochon.
Smart and detailed set of vintage Russian cufflinks for your sleeve. The blue/green cabochon on the cuff link is encased by an ornate surround of gold tone metal. I have not researched the stamp that appears on top and bottom halves. Much more gold tone than shown in photos. Due to computers morphing colors the stone may appear more, or less, blue/green than it actually is. The color is close to the original.
Era:

Vintage

Size:

Tops are round and just over 13/4 inch across.

Color:
Blue/green cabochon.
Material:

Gold tone metal.

Connection:

Wire connector.

Issues:

Light scratching/dimpling to back sleeve connectors.

Origin:
Old USSR
Share us with the pin and social buttons under every product. Press on the envelope icon to send an E-mail link to this product with a message from you. We do not share, use, or monitor these E-mails.